Let The Good Times Roll
Fresh Cleanser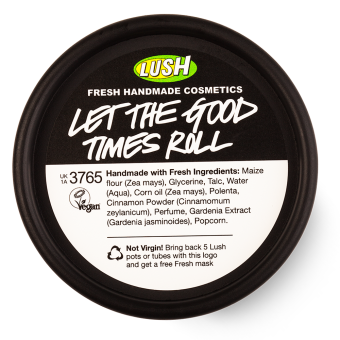 This face and body cleanser is a gentle treat for the skin, leaving you soft to the touch with a buttery popcorn fragrance. Maize flour and polenta gently exfoliate, whilst cinnamon powder stimulates and leaves you feeling fresh and revived, with beautifully soft skin. This gentle yet scrubby cleanser will soothe and soften your skin, giving it a natural glow.
List of ingredients
Fair Trade Organic Cinnamon Powder
Natural Ingredients
Safe Synthetics
*occurs naturally in essential oils.
We do not test our finished products on animals. We also only purchase from ingredient suppliers who do not test on animals. More.
Top Rated
5/5 stars
1ginaesguerra_29165
About 2 years ago
Thank goodness for my friendly Lush associate, I was introduced to this popcorn in a recycled black pot. I immediately asked "what's screening tonight?" as I felt I was in the movie theater about to watch a flick. Whenever I use this cleanser, I deeply inhale as I absolutely love soaking in all its popcorn-y goodness. Oh and yeah it makes my skin uber soft after use. Not to mention I smell like yummy popcorn after (yes that's how much I love popcorn).
Latest
2 years ago
serene_185
About 2 years ago
It smell like Popcorn.... LOL.
I love the scent plus it have exfoliating bits (from Maize Flour). I have been using it (evening) and Movis (morning). My only problem is I break out and I think maybe I an allergic to Cinnamon power. I give it to my Mum and she love it for her oily combo skin.

I still get to smell it when I go to her place.
Most Recent
Most Recent
Most Helpful
Top Rated